Logistics
Location and Venue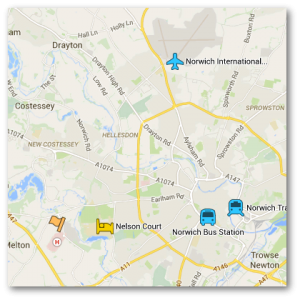 The 2015 Galaxy Community Conference (GCC2015) will be held at the John Innes Conference Centre, in Norwich, United Kingdom.  The Conference Centre is adjacent to The Sainsbury Lab, and is located in the heart of the Norwich Research Park (NRP),  It is also a short walk from the conference lodging on the University of East Anglia campus.  All conference events will happen in the Conference Centre and the surrounding Norwich Research Park.
The park is also home to The John Innes Centre (JIC), The Genome Analysis Centre (TGAC), The Institute Of Food Research,The Norwich and Norfolk teaching and research hospital, and numerous start-ups and thriving biomedical businesses, resulting in a research community of over 12,000 in the immediate vicinity.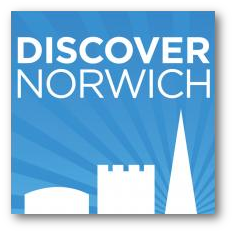 Norwich's thousand year history is reflected in its heritage landmarks such as Norwich Castle (inspiration for the conference logo), Norwich Cathedral, and the Cathedral of St John the Baptist, and the pedestrianised Norwich Lanes district. Find your way around town with the Discover Norwich App, with comprehensive city-centre business listings, an interactive map and extensive event listings.
Lodging
Conference Lodging: Nelson Court
Rooms for GCC2015 participants will be available in Nelson Court, on the University of East Anglia campus.  These rooms can be booked only at registration time. Some details on Nelson Court:
Check-in time is between 2pm and 5pm, and check-out time is 10am or earlier. If you arrive after 5pm or on the weekend, please go to the security lodge (the little orange policeman on the map to pick up your keys.
For check-in, just tell them your name and that you have a lodging registration for Nelson Court as a participant of GCC2015, hosted at The Sainsbury Lab/John Innes Centre.
Rooms have private showers, toilets and washbasins, with a shared kitchen
Breakfast is included each day and will be served from 7:30-9:00.
Room rates are based on length of stay.
Room rates per night:
| | | | | | | |
| --- | --- | --- | --- | --- | --- | --- |
| | 1 night | 2 nights | 3 nights | 4 nights | 5 nights | 6 nights |
| Early Bird | £64 | £62 | £60 | £59 | £59 | £59 |
| Regular | £68 | £66 | £66 | £63 | £63 | £63 |
Other Lodging
Norwich has many options for
hotels
,
B&Bs and guesthouses
, and s
elf-catering
 accommodations.
Transportation
Norwich is in the East of England, and has several convenient options for getting there.
Arriving by Air
Norwich International Airport

Norwich International Airport is served by KLM and the regional carriers Flybe, BMI Regional, and Eastern Airways, with direct connections to Amsterdam, Manchester, Edinburgh, and Aberdeen.  Form the airport you can take a taxi or local bus (with transfer) to get to the Norwich Research Park.Note that if you fly out of Norwich airport you will need to pay the dreaded £10 Airport Development Fee before you can go to your gate.  Arguably, £10 is not much, but it is irritating, and it even made #8 on the Telegraph's 27 Worst Things About Flying list.  We apologize, profusely and in advance.  Norwich airport is, however, a very convenient way to reach Norwich from outside the UK.
London Airports
You can also arrive at any of the London airports and take a train or coach to Norwich.  Stansted Airport is the closest and has direct rail connections to Norwich.
Arriving by Train
Another option, especially if you are based in the UK, or are arriving at another airport, it to take Britain's national train network to 
Norwich Train Station
, located in downtown Norwich.  From there you can take a local bus or a taxi to Norwich Research Park.  
National Rail
and  
TheTrainLine
 are two comprehensive online resource for booking train travel within the UK.
Arriving by Coach
You can also arrive in Norwich via coach.  
Norwich Bus Station
 is downtown and is also served by local buses and taxis once you arrive.
Arriving by Car and Parking
See the Sainsbury Lab and UEA getting here pages.
Parking at the Conference Centre is "ample and free for all events."  If you require parking at the conference venue, please use the JIC Visitor's car park (follow the signs we will put up). When you are at registration, please tell us your license plate number, make, and color so we can register it with JIC security.
Those staying at UEA will be able to park in the Main car park on campus.  Parking will be available in the Main car park on campus.   UEA car park charges are
on weekdays:

6am – 1.59pm £1 per hour
2pm – 1.59am £1 flat
2am – 5.59am £1 flat

on weekends: 2am – 1.59am (24h) £1 flat
Getting into Central Norwich by Bus
First Group is the major local bus provider in Norwich. This map shows the complete network, and these buses specifically serve the Norwich Research Park or the UEA campus:
These bus stops have been added to the conference Google Map.